There where tantra is the spreading of the wings, where the heart is embracing, a theatre is purufying catharsis and the awakening is an ordinary life… in a shamanic rhytm of the nature
The way of man is like a theater performance, filled with various events that set out further acts, and each act takes place in a unique setting. In life we are at the same time the actor and the director, but also …the supernumerary. As a stage designer we create a scene. It is us who choose costumes that can be black and white, or colorful. We are also the spectator, moved by the very game on the stage.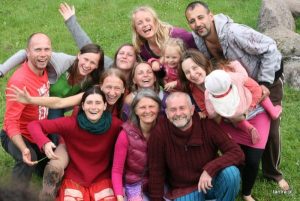 Meanwhile, the theater is more than the performance only. We do not see what happens behind the curtain, the entire creative act. We can only see the result of the creation. The same happens in our true lives, we are participants in some events and we do not see the whole, and the whole is what our great spectacle of life actually consists of.
In our lives, as in the theater, everything is important, everything has a deep meaning. Do I see that I am more than just the main character, as I am also after all a master of the van that brings the costumes… Often we do not realize how much depends on us, on our attitude, on our "yes" or "no." Where at this moment I'm in the theatre of life?
It is a workshop space created by many therapists, entertainers, in the form of workshops and events, in different places in the world, where through various forms and techniques, we have the opportunity to look over our lives. To take the distance, to see myself in all qualities and colors, glitters and shadows, to feel it and experience it. Then being honest with myself, I take the responsibility for what happens in my life and I decide to change myself. In this way, I open my potential and begin to participate in the creative act of my life. I am a living man in the theater of life.
Participation in the Theatre of Awakening is a pure experience,with the full understanding that everything is a continuous way, and an endless change, where we recognize love in various aspects of our lives. It is an inner journey, during which we can experience ourselves. It is an alchemical transformation, manifested in our everyday, ordinary life. It is a formula of personal development workshops and artistic activities. Our meetings and trips inside yourself have a very strong shamanic aspect and form a developmental path.
Tantra, that a particle of exists in all of us, is about openness of the heart, contact with your own body, emotions and our soul. We open up into our inner intuition, awakening an instinctive savagery, to be able to reach the awareness of what a real relationship is. We find the courage to enter into close contact with ourselves and other people. To make it possible we need to establish a relationship with our bodies, accept them and love them as they are. Then we can enter a new area of our lives where we start to feel the reality, we leave the illusion, find the source in ourselves and build our own capacity to act We see life as it really is. We learn to feel, experience what empathy and compassion is. And in this way we also feel the nature and the Mother Earth, as a part of ourselves. All this leads us to a state where we begin to live in a deep relationship with the world, nature and other people. We become our own inner master.
Tantra of the Heart supports opening up to love and following the path of experience. Then we can call our lives the THEATRE of awakening.
We facilitate various workshops and meetings, a school and also artistic activities – we create events, musical theatre performances, open-air happenings, where everyone can experience themselves while taking full responsibility for their lives. We use a variety of methods and tools that allow us to feel better and get to know ourselves, our bodies, emotions and feelings that we carry inside.
We also use elements of psychotherapy (Gestalt, Rebirthing, Postural Integration, guided meditation, regeneration movements, experimental Gestalt approach, myths and fairy tales work, psychodrama and theatre), various forms of relaxation (meditation, dynamic meditation, trance). With all that we create a magical place for a meeting with other people and our inner side. A safe space where everyone can find something for themselves.
And we can significantly improve the quality of our relationships, find satisfaction and passion in the personal life, and live in every moment. We can also awaken in our life, because we create it.
If you feel that the time has come to make changes in your life, we invite you to our meetings – to work in the sphere of the heart, body and spirit. We invite you to explore yourself anew, to the world of exploration, transformation and to the miracle of finding it.