Ewa, the New Year's Eve, 2022/2023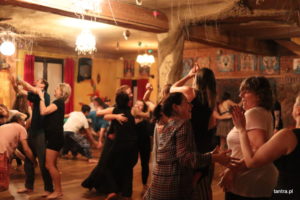 A few days ago I participated in a tantric-shamanic Ritual of Transition. 
There were 44 battered souls plus wonderful organizers and assistants.
5 days for reconciliation with oneself, for laughter and crying, for screaming and silence, for wild dances and massages, for the pain of all muscles and the pain of the soul, who bravely looked inside itself.
I didn't come back changed. I'm back real, I was wonderful before, and now? Eternal Accumulator of Love.
If someone would like to finally stop being someone they are not – I heartily recommend Mario Wisniewski. I am really thankful for their wonderful souls.
It's impossible to describe it all in words.
There used to be a video circulating online of people saying "I love you". I liked it a lot. And when during the rituals I was lying, jumping, breaking, laughing, being afraid, sweating… I thought how wonderful human life is in this truthfulness and invited the participants to record our version of "I love you".
The video is full of shortcomings. Just like us. Some had poor hearing, some had poor vision, others had poor feeling or felt too much, or knew everything, or knew nothing at all.
The camera captured our embarrassment, swollen and unpainted eyes, exhaustion from releasing pain, harm, longing. We are so real there.
I would like to thank each person from the workshop for their internal consent to work on their own and in pairs. We were super brave.
Enjoy watching!