Anna, the New Year's Eve 2022/2023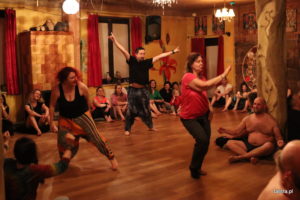 Hello, here comes the energy from a fantastic workshop.
The transformation process is ongoing and I am very grateful for this experience.
I am grateful and I thank all the wonderful people with whom we worked intensively and created a brilliant energy of joy, love and freedom. 
The surroundings of the house where this phenomenal meeting of beautiful people took place was conducive to our work. Surrounded by mountains and forests. Beautiful horses and dogs with whom I loved spending every free moment.
Grounding during the workshop is very important, so daily long walks in the forest are recommended. I did it with joy and great pleasure, because I love nature.
Baths in banya, where the water temperature reached 45 degrees, after the banya bath in the icy mountain stream and then tea with ginger, honey and lemon.
Beautiful time – beautiful experience!
With gratitude and love