Hobbit Mountain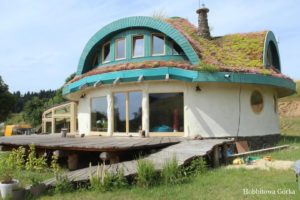 If you want a fairy tale, here comes a fairy tale: Hobbit Mountain is a wild space, where you can see nature at an altitude of 600 above sea level.
A place of healing through nature, meditation, sharing, creativity and developing interpersonal skills.
A place of workshops and art – therapy, animation and training in various forms of artistic expression: singing, theater, clown, dance, sculpture, painting, ceramics…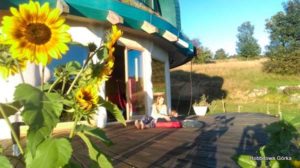 A place of research, sharing experiences where art will find its entire educational, social and human dimension. A place of welcome for all individuals and groups who want to relax in nature. And people for whom the fate of our common planet Mother Earth is important.
A bit of philosophy and history
It all started in 2010, as a couple of newly in love people, were looking for a place for themselves in nature. I was fascinated by domes, but I didn't like that they were made of concrete. We found a workshop for building houses from bags of rammed earth at Jarema Dubiel.

The workshop was nice, the technology was not suitable for our climatic conditions. But there we saw a beautiful baba yaga's hut made of straw, clay, covered with grass on the roof. When we were inside, I felt that such a house can be something to think about.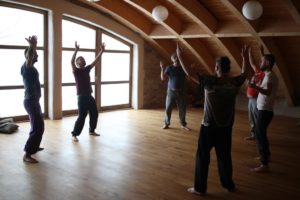 From then on, we knew what to do. Of course, unrest remained, in those days people thought it was crazy to build houses like this. The heart was filled with dreams, but where to build a house? We were looking for a wild place together, in the middle of nowhere, I was looking for a land that would give me a challenge. We had been looking for land for over two years, checking advertisements, venturing into forests and meadows, walking around the hosts. At some point, an advertisement appeared with beautiful photos of mountains, meadows and forests. The attraction had begun.
We are convinced that land cannot be owned, rather we are simply in its service.I suggested to my friends that they organize a workshop for therapists there.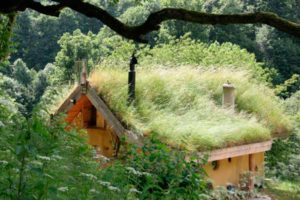 Hmm, something strange started to happen, energetically the processes were very strong, and the transformation point hit the proverbial bull's eye. You had to really stick to the vertical so as not to get lost in the house, etc. There was no so-called reference point. To be honest, I had the intention to make "everything flow" in the house, so that the sight would not have a reflection. But everything made sense. The round structure of the house which is located at the very top. The house is a great place for transformation. We decided to make the house with a room outside available for various types of internal development workshops, artists, and all those who are close to ecology, so that it serves transformation. With the help of friends, we decided to harmonize the energy sector. And so the house took its present shape.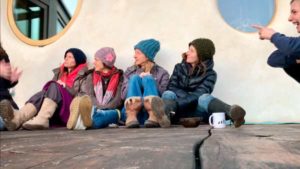 The house is built in a frame structure, filled with straw. The walls are carved in naturalistic shapes. All this in search of alternatives. From the perspective of these years and extreme weather conditions, I can confidently recommend natural building technologies.
Hobbitowa Górka is a place of family life and experiment where several ecosystems, several inspirations, several visions of the world met… It is an ecological experimental place, the purpose of which is to prove that it is possible to live in balance and harmony with the environment that surrounds us. It is a real "crucible of creative thought" in which we admire all creations to be inspired by them.

A wonderful space that allows you to explore the connection with everything and our place in the world…
To dare and allow yourself to embody authenticity, transparency and true speaking, to be human in all its manifestations…
"A man is not a human being who makes a spiritual experience, but a spiritual being who has a human experience"
Welcome to the website www.hobbitowagorka.pl