Sign up
"Dream and Tarot" – Shamanic Workshop, working with dreams
09/10/2023 - 15/10/2023
Nowa Morawa, Sudeten, Poland
Otwórz bramę do świata świadomych snów !!!
"Sny są językiem Boga. Gdy Bóg przemawia językiem świata, mogę odgadnąć ich znaczenie. Jeśli zaś mówi językiem twojej duszy, to tylko ty jeden możesz je zrozumieć."
Alchemik – Paulo Coelho
Podczas warsztatu ożywisz swoje sny. Przeżyjesz je tak jakby działy się tu i teraz. Zamiast opowiadać sny, jakby były historią z przeszłości, odegrasz je tak, że staną się one częścią Ciebie, po to by w Twe życie zawitała świadomość, zrozumienie, nowy kierunek, sens życia, i wszystko to co Sny chcą Ci powiedzieć. To również czas dobrej zabawy, spontaniczności, tańca i nowych inspiracji.
Warsztat bazuje na teorii Junga i Perlsa. Jest otwarciem drzwi do głębi nas samych, do tego co uświadomione i tego co mieści się poza tym w nieświadomości Twojego istnienia. Zaprasza on do poznania siebie, do identyfikacji z każdą cząstką snu, w której zmieniasz jakieś "to" na Ja, a wówczas wzrasta Twoja witalność i Twój potencjał. Każda chwila, w której zanurzasz się śniąc jest tak ważna jak każdy oddech, który napełnia Twoje ciało życiem. To ta chwila mówi Ci dokładnie, gdzie jesteś w związku do siebie samego, w relacji z innymi i ze światem w obecnym momencie.
Sny są jednym z naszych najbardziej intymnych doznań. Każdej nocy śnimy, a każdy sen jest jedyny. Świat, który widzimy w snach – jakkolwiek niespokojny, straszny, piękny lub pełen seksu – obnaża wszystkie nasze tajemnice. Dla szamana świadome śnienie ma nieocenioną wartość! Czy można mieć bliższą łączność z podświadomością, niż wtedy, gdy się śpi?
W czasie snu wydarzenia wydają się bardzo realne. Ich celem jest dokonanie pewnych subtelnych zmian w nas samych. Są częścią procesu duchowego rozwoju. Dla szamana obydwa te światy są jednym spójnym istnieniem. I tu tkwi istota szamanizmu. Cokolwiek zmienimy w czasie snu, lub światach energetycznie zbliżonych do śnienia, zmieniamy w naszym świecie "Formy" znanym nam z codziennego życia.
Już dziś zacznij spisywać swoje sny, mogą być te krótkie i długie, mogą być ich fragmenty. Im będą one świeższe tym lepiej. Na warsztat narysuj minimum 12 kart przedstawiających Twoje sny. Wykorzystując je postawimy tarota z twoich snow, i tego nauczysz się również na warsztacie.

Zapraszamy pojedyncze osoby i pary, również tych, którzy pracują z innymi ludźmi, terapeutów, psychoterapeutów, psychologów, trenerów rozwoju osobistego, coache.  Są to też warsztaty  dla aktorów, reżyserów teatralnych, tancerzy i choreografów. Tych wszystkich, którzy poprzez pracę nad sobą pragną poszerzyć swój warsztat twórczy.


Facilitator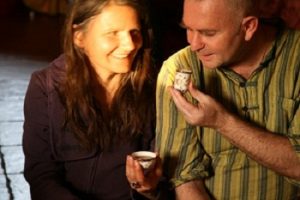 Mario Wisniewski – Animator, psychotherapist, actor, director, teacher of tantra, and shamanic practitioner.
A vigilant observer of the reality, beekeeper and traveller, passionate about life.
A happy husband and father, supported by his wife Gaya and a team of therapists, always with a sense of humour.
Practical information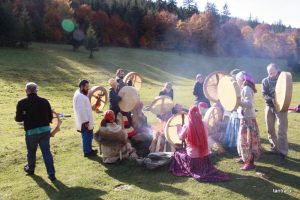 Date: We begin with lunch at 1 p.m. on 09/10/2023 and end with lunch at 2 p. m. on 15/10/2023
Price: 600 EUR per person / 575 EUR per person in a couple + accommodation 45 EUR per person per night (board and accommodation)
Advance payment and participation in the workshop means that the participant has read the Terms and Conditions and undertakes to abide them.
It is possible to organize care for children in a separate space during workshop hours – for an additional fee.
Our place
Place: Nowa Morawa, the Massif of Snieznik, Lower Silesia, Poland. The home 'Modra Rzeka' is a place that will host you with delicious vegetarian home cuisine. The meals are made by locally grown ecological products, coming from the mountains and valleys around– vegetables, fruit, cheese, homemade preserves.
Location: 
https://goo.gl/maps/w9DrQUarprBEdQFv8