There where tantra is the spreading of the wings, where the heart is embracing, a theatre is a purifying catharsis and the awakening is an ordinary life… …in a shamanic rhythm of the nature
The Tantra of the Heart is a reminder that human lives in a relation to another being. And it is the building of interpersonal relationships that is the greatest challenge of a human and the path of the Heart.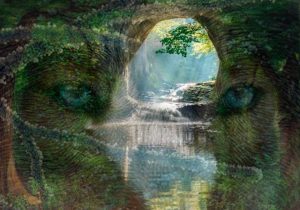 The relationship between people is the biggest treasure today.
A meeting in which you can look in the eyes,
hear and stand hand in hand,
Crouch down for a moment and talk about the souls' cares.
Where a change changes the reality around.
Where one human with another human
sit at a common table,
And they together experience more and less joyful moments
called transformation.
A relationship that is alive and is like a fertile land
That connects hearts,
That seeks itself in every moment of life,
That gives freedom to people.
The precious gift that the creation gave us.
The word 'tantra' comes from Sanskrit and means 'to sow', 'to weave' and 'to expand'. The heart can only be found in a relationship; in a relationship with other people, with the world. In addition to the technique in tantra, the most important is awareness, continuous expansion of self-awareness.
The way of man is like a theatre performance, filled with various events that set out further acts, and each act takes place in a unique setting. In life we ​​are at the same time the actor and the director, but also … the supernumerary. As a stage designer we create a scene. It is us who choose costumes that can be black and white, or colourful. We are also the  spectator, moved by the very game on the stage.
Meanwhile, the theatre is more than the performance only. We do not see what happens behind the curtain, the entire creative act. We can only see the result of the creation. The same happens in our true lives, we are participants in some events and we do not see the whole, and the whole is what our great spectacle of life actually consists of.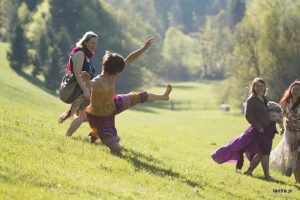 In our lives, as in the theatre, everything is important, everything has a deep meaning. Do I see that I am more than just the main character, as I am also after all a master of the van that brings the costumes… Often we do not realize how much depends on us, on our attitude, on our "yes" or "no." Where at this moment I'm in the theatre of life?
Tantra is like a theatre. This is a great catharsis in our lives, provided we take responsibility for ourselves, we are ready to look at ourselves and make changes. We choose every day, every moment. How do I act, what are my real intentions? What do I not see? It is about the shadow, the part of us that we reject, that we do not like in ourselves, and that obscures us from the image of ourselves and the world and creates our lives. Being honest with myself, I can take responsibility for what I do, how I act, whether I work together or whether I am open to working together for the good of the family, circle of friends, the community, in a simple way. Do I stand on the other side closed building an armour that cuts me off from other people, from everyday joy and enjoying small things.
Through various tantric, therapeutic techniques, spontaneous movement, integration games, body and voice work, we wake up our spontaneous child, so far closed in an armour of orders, duties, beliefs. This spontaneous child can bring us the joy and courage we need in relation to the other person. Through fairy tales and myths we are transported into a magical space where we touch the truth about ourselves. This truth is not always easy to accept, but it only allows us to make a real, tangible change in our daily lives. We open ourselves to our inner intuition, waking the instinctive wildness in ourselves.
We get to know what a real relationship is, what sexuality really is. Aware sexuality based on intimacy and trust is paradoxically just being recognized area. It has nothing to do with the popular beliefs.
We also need to make contact with our body, accept it and love it as it is. Let us feel… so that the mental concept does not devour the heart. Then we enter the new space of our lives where we begin to feel reality, we come out of illusion and find the source and build our own potential for action, we see life as it really is. We experience what compassion is. And so Nature and Mother Earth become a part of us. All of this leads us to a state in which we begin to live in deep relationships with the world, nature and the others. We ourselves become our inner master.
Tantra of the Heart supports opening up to love and following the path of experience. Then we can call our lives the  THEATRE of AWAKENING.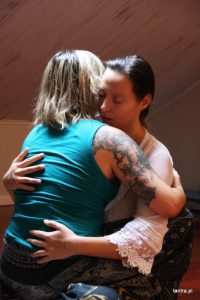 It is a workshop and artistic activity space space created by team of therapists and animators, who conducts various workshops and meetings, school and artistic activities – we create events, musical performances, theatrical outdoor performances, happenings, where everyone can experience themselves taking full responsibility for themselves. We use different methods and tools that allow you to feel better and to know your body and your emotions and feelings. We also use elements of psychotherapy (Gestalt, Rebirthing, Postural Integration, guided meditation, regeneration movements, experimental Gestalt approach, myths and fairy tales work, psychodrama and theatre), various forms of relaxation (dance, massage, spontaneous movement) and meditation (meditation, dynamic meditation, trans). Thanks to all this the magic place is created.
Everything is a continuous way, and an endless change. The Theatre of Awakening is pure experience.
Our meetings and inside trips have a shamanic aspect and are a form of a developmental path.
If you feel that the time has come to make changes in your life, we invite you to our meetings – to work in the sphere of the heart, body and spirit. We invite you to explore yourself anew, to the world of exploration, transformation and to the miracle of finding it.