Magdalena Kaminska
She is passionate about life, relationships and learning the 'unknown'. She loves to explore herself, the world around, and inspire.
She is fascinated by languages and how they affect the reality we create. For many years, she has been working with teenagers, no longer child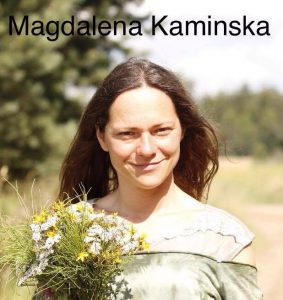 ren and not yet adults, as a teacher at the school. She is interested in the moments of overlapping, clashing and connecting 'worlds' with each others.
A multiple champion and multi-medalist of Polish Championships in sprint and rely (100m, 200m, 4x100m) and a medalist of the European Championships in the 4x100m relay.
She has a master degree in Hungarian Philology, in the faculty of language and literature, and a faculty of language teaching. She has graduated from Norwegian Gestalt Therapy Institute. She is a translator (Polish, Norwegian, English and Hungarian). She loves dancing, singing, rhyming, improvising, creating and enjoying life.
Soon after she began her personal development she met Tantra of the Heart. She has graduated from the school – Formation. She collaborates with Tantra of the Heart today. Thanks to that she has been introduced to body work methods, psychotherapy (Gestalt, Rebirthing, Postural Integration, guided meditation, regeneration movements, experimental Gestalt approach, myths and fairy tales work), various forms of relaxation (dance, massage, spontaneous movement) and meditation (meditation, dynamic meditation, trans). She does shamanic journeys. She participates in Creation Laboratory – Psychodynamics of the Relationship & Body Communication.
She lives in Oslo, where she facilitates workshops and individual sessions, where the movement, relationships and various known forms help to open up people to their inner truth and direction