Karina, the New Year's Eve 2021/22, 2022/23
I attended the New Year's Eve of the Joyful Heart in Nowa Morawa at two ends of the year in a row.
It was a great beginning of my adventure with workshops in this Joyful House of Joyful People and I recommend it to anyone interested as an alternative to any other type of New Year's Eve activities.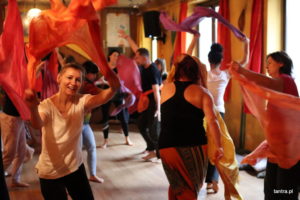 I met fantastic people, I danced all night long :), I got out of my comfort zone a few times, which broadened my horizons, I discovered the great diversity of local forests and ate delicacies 🙂
I could experience different aspects of life, a little bit, so that I could feel it, but not go too far out of my comfort zone and want more – and that's what happened because I came to the next workshop 🙂
Thanks to the first New Year's Eve, I learned:
– that dreams come true :),
– what power intentions have in life,
– how hard my body is despite an active lifestyle,
– how important breathing is,
– that you don't have to drink to have fun!
– that you don't have to push yourself in life and run away from problems – you can dance with them :),
– that the eyes are the mirror of the soul :),
– that my heart is really beating!
– how great the magic of rituals is,
– what reserves of wildness lie dormant in me,
– and many others :).
Thanks to the second one, I saw where I am and where I was, i.e. how much you can change if you really want it 🙂 ok, between the two meeting at the end of the years I also attended a few workshops in Nowa Morawa, because New Year's Eve convinced me that it's really worth it, so after a year I've been collecting their fruits for a while now 🙂
And the rite of passage into the New Year… is just wonderful here!
Modra Rzeka is a magical place to which you want to come back. Wonderful people in a wonderful space. Being with them, right there, the passage into the New Year is something exceptionally ritualistic and beautiful. For me personally, it was a fantastic experience to see how much has happened in me this year, where I am now and where I was then – a lot has changed.
Of course, it was not only this New Year's Eve, but also subsequent workshops in Modra Rzeka, because this first New Year's Eve told me that this was where my path led.