Sign up
Connections – Advanced workshop with Peter Wilberforce
20190924 - 20190929
Nowa Morawa, Sudeten, Poland
An advanced workshop, for participants who participate or have graduated from 2-year Tantra of the Heart – Relation Psychodynamics and Body Communication School.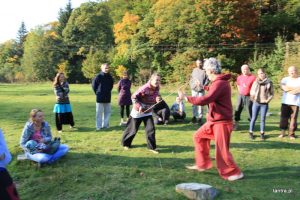 In each one of us there is a unique music playing. Our bodies are the instrument by which this music finds expression in the world. Alone perhaps we can hear and give voice to this music with ease, but what happens when we turn to another person, when we open to the world?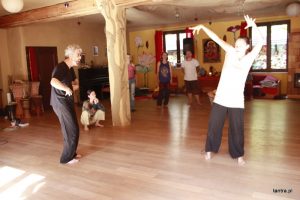 During this workshop we will turn inwards to connect to ourselves – to our breath, to our bodies, to our own internal music. We will explore how this music can find expression through movement and sound, the dance and the song our guides on a journey of exploration.
Then we will turn to meet another. How does the music of the other inspire our own? As we welcome the other what new qualities awaken within us? What new possibilities of expression do we discover?
And if we open once more to welcome all those who move and sing around us, how are we inspired? What web of connection emerges to carry us forward? What music collective evolves to guide our different bodies and voices?
Inviting a spirit of openness and curiosity, willing to share and to explore, we will follow the creative pathways that open to us. Alone, in pairs and all together, each time a journey of creative discovery. Bodies dancing, voices singing, hearts opening, spirits connecting – the music of our diversity in harmony carrying us…
Our journeys alone and together will be guided by different body and voice practices: the 5 rhythms dance practice, the Feldenkrais Method and the Naked Voice work of Chloë Goodchild. In a clear and secure framework, supported and inspired by the others in the group, each person is invited to follow their own rhythm, respecting their limits, giving space for their music to grow, evolve and find free expression in the world.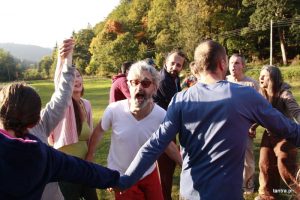 Peter Wilberforce is an accredited teacher of the 5 Rhythms® dance practice and facilitator of his own work – Body and Voice. He leads classes and workshops in France and all over
Europe. For many years he worked in the world of opera, as director, project manager and teacher. An enthusiast of dance, voice and physical theatre, he has always followed workshops and trainings with teachers from the worlds of performance and personal development. His teaching is guided by a belief that optimal, embodied learning occurs in a space of quiet attention, enquiry and play in which each individual can follow his own exploration while supported and inspired by the group. He brings humour, clarity and warmth to his facilitation. www.bodyvoiceandbeing.com
Information, registration: Aleksandra Jozwiak, + 48 720 893 888, aleksandra.j@tantra.pl
Date: Tuesday 24th of September – Sunday 29th of September 2019
Price: 340 € / 300 € Early bird price for registration in full before 10.05.2019
The payment information will be sent to your e-mail!