Magdalena, 'Body, Breath and Sound: The Dancing Voice', September 2018
'I've discovered endless possibilities of playing with my own voice. I've created innumerable sounds, coming out from everywhere, having different depths, colours, shapes, textures. I got surprised by myself that I haven't discovered it before!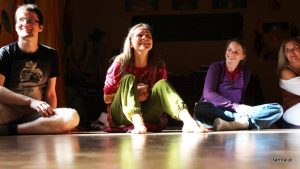 I felt something absolutely amazing listening to the words: 'look in the eyes of the others. Are you looking or you are looking as if you were looking?' I looked and saw that whoever I look at could see that I was really looking… A wave of what happened in this meeting pierced me, the way my body feels and reflects that I allow myself to enter into the greatest sensitivity, intimacy, that I am available to other people.
'Wake up! See where you are! ', just be aware of it, wherever you are aware, exhale, relax…
My body is shed by the angels that have been with us all the time, and I have a feeling of the sanctity of the divine instrument in which God has dressed my soul.'