Szymon, 'Dance with the Gods', October 2019, Nowa Morawa
I met with the mythical biblical figure, Abraham, though he seemed boring at first. He revealed his secrets, his depth. The first surprise: the role of God – he plays by giving attempts to solve.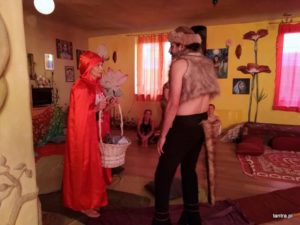 He keeps his fingers crossed, but he has joy in it. It is amazing that women, despite sometimes a difficult fate, remained in great faith and trust. It was men in my myth that felt hesitation, fear.
By playing my group's fairy tales, I experienced more and more what tightens me – the sincerity of self-expression. The way you really are – a non-invented human idea, but a real human being.
During the ritual, I express myself to the man so spontaneously, without censorship, only the expression of everything set me in my heart. I cried and spoke from my heart and for my heart. Then I heard ravens, it was more than just ritual of burning of the mask.