Karina, School of Tantra of the Heart, Formation of Psychodynamics of Relations and Body Communication, 1st, 2nd, 3rd meeting, 2022/23
1st meeting (joy in discovering and accepting your body)
My first tantra meeting was an amazing meeting.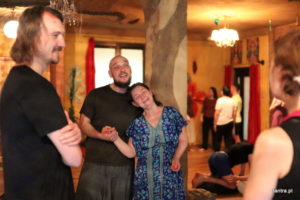 I am glad that I had the opportunity to attend New Year's Eve in Nowa Morawa three months earlier, which prepared me for this work on a slightly deeper level.
What I experienced during this reunion:
– I became friends with my body,
– I gained distance from certain issues,
– I learned about and experienced the tool of "cutting the umbilical cord" among wonderful people.
– I saw how much anger I have inside me, which has recently caused destructive outbursts and clenching my jaws,
– I saw how much I have in me from my mother and father, not only the bad but also the good, that I can use every day,
– I saw that what I was saying was valuable for the group,
– I saw that I could express myself freely,
– I saw that every meeting with another person is valuable,
– I saw how much I think about the past and the future, not the here and now,
– I had the opportunity to take part in a fire ritual,
– I saw how much strength I had in myself,
– I saw how much wildness I have,
– I experienced wonderful synchronicities,
– I worked with my power animals for the first time,
– I learned how important the balance between giving and receiving is. And I saw how imbalanced I was,
– I felt that life is theater.
2nd meeting (Projections)
I came with the thought that this time I wanted to be involved in everything I do.
With each challenge, I asked myself "what do I want to create?"
Working with projections – it's amazing how many unexpressed grievances I had.
A sense of feminine and masculine quality.
Conversations about sexuality.
3rd meeting (Spontaneous Child)
I feel like I feel more, that my body is no longer so concreted. I felt tribal, that I was truly part of this group of people. I feel a different quality, greater softness.
I also see how others change.
A different level of conversations, contact, understanding.