Wieslaw, shamanic workshop 'Death and Resurrection' 2023
Here is my reflection. I've been waiting for the dust of ecstasy to settle and today is the day. The day I felt happy.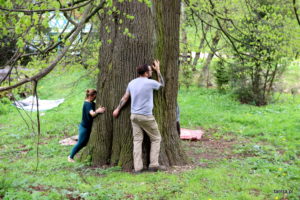 Oh yes. It came. I felt it clearly, located it in the body and it is there. Until now, I could summon a whole range of feelings at will, from love, lust to the dark and sinister, but never joy. She came suddenly, for no reason, and it stayed. I can enjoy it anytime.
There was silence after the workshop. On the first day of work, as I closed the door, it dawned on me that perhaps I was closing it for the last time. So what to do about it? How to live this day to make it special if it's supposed to be the last. More, how to make the day of the person I meet today special if it is their last day of life? I will not solve the problem of hunger in the world or stop wars, but I will improve the world of one person, the one close to me, I will do it with a smile, kindness, a good word.
Back to the Workshop, it was a time of reconciliation and farewells. Giving my life to the fire to be consumed, I understood what a powerful gesture it was. A challenge, because now I can no longer complain about a failed childhood, relationships, bosses. I can no longer use them as an excuse to live in fear as I watched them burn at the stake. Every day is the first and the last. Every meal, every bath, every time I look at my child I know that this may be the last time, and in the morning I thank God for giving me another chance.
Thank you very much. For care, commitment to make this world a better place, for inspiration and the opportunity to meet so many beautiful people.
With love.