Magdalena, advanced tantra workshop, Formation, 7th meeting, May 2019
'The Seventh meeting', with God connecting,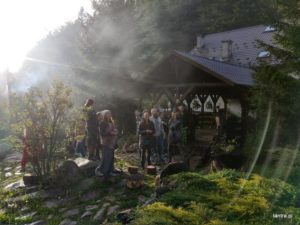 Life appreciation…
The Element of the universe in myself realization.
What do I bring in the world when:
– I forget my own divinity,
– I remember it, but in action I focus on other qualities,
– I check, I judge and I stay there…,
– To catch up with others is my motto,
– I can only see my own self,
– I am ashamed of who I am,
– I do not take responsibility for my divine being,
– I hide my own quality from the world…
And this is the time, for sure!
To lose my mind in all the appearing questions,
To stop answering, to meet myself on the questions crossroads,
In delight, fall over them, and enjoy the next one,
The next answer opens a new gate,
When I notice it, my enthusiasm is alive.
Life is a precious gift…
for free…
Invaluable and unappreciated!
And in me is the time that I have,
For the sake of all things, I will use it!
Every day seeing the divine beings around me who were sent by the Lord to me,
I appreciate the beautiful taste
of a brother's look in the eyes of his sister,
Where words are just a joyful addition
To this world that is abundant in everything.
God, help me please,
That I am a human with a real heart in this life
It's the biggest miracle…
Amen