Jakub, School of Tantra of the Heart, Formation of Psychodynamics of Relations and Body Communication, 2nd meeting, 2023
Each meeting in Nowa Morawa is like a unique story for me.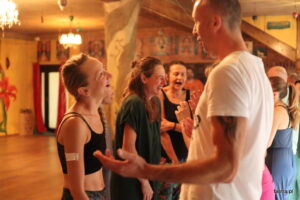 A story in which I am the author, hero and viewer at the same time.
I really appreciate that Gaya and Mario pay so much attention to grounding.
For me it was a breakthrough discovery that changed my expression, feeling and body energy.
I feel like I'm more balanced. The energy in me flows throughout my entire body.
I stop feeling over-energized, which I had mainly in the area of sex.
I stop escaping from my body into higher states of consciousness. And when I visit them, I am grounded, rooted, connected to the body. Thanks to this, I experience life fully, from the level of the heart, where Earth and Heaven meet, connect with each other, integrate.
Thanks to the Formation, I experienced sexual energy with my entire being, which allows me to feel the subtlety, beauty and love contained in it.
On our second meeting, my whole being touched the clench inside me. I became aware of its presence, released the accumulated potential that holds it. It wasn't always nice and colorful, but it was 100% true.
And knowing and feeling that I am beginning to live fully fills me with gratitude and love.