Emilia, 'Dream Tarot', Nowa Morawa 2023
It was a beautiful and revealing magical workshop full of joy. An amazing meeting full of surprising and interesting discoveries. Somewhere deep in my soul I had been waiting for this meeting for many years…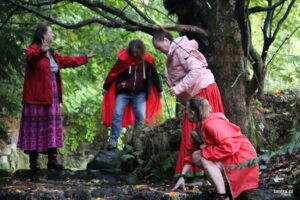 It turned out that dreams provide information in a slightly different way than I thought… And there are many ways to read them, but at the same time these were not the ways I knew.
Joy, emotion and an ocean of information guided me throughout the shamanic journey I took deep inside myself. Surprise and curiosity accompanied me every time I immersed myself in the dream images, priceless discoveries… Discoveries possible thanks to meetings with other people with a sense of openness, synchronization and compassion.
The parts of my soul appearing in my dreams were speaking louder than ever before. The insights into myself and, above all, the way of transmitting them, surprised me many times, causing a feeling of great closeness and clarity of the meeting in my body.
Each dream was an ocean of information in which I wandered through the universe of the soul, obviously feeling that this body was guiding me. Sometimes small, subtle sensations and sometimes a clear impulse in the body were like a key to further journey.
I learned the language of my own soul… non-verbal, indescribable, and at the same time clear and simple, understandable and legible, full of courage and sensitivity, anchored in the body, permanently available. I listen and walk on with gratitude, feet on the ground and a smile on my face.