Asia, School of Tantra of the Heart, Formation of Psychodynamics of Relations and Body Communication, 3rd meeting, 2023
Sometimes things have to fall apart for me to understand what actually happened.
It's been over a week since I finished my 3rd meeting with Tantra in Modra Rzeka. Emotions, thoughts, joy, happiness, good energy full of love vibrate in me all the time. Each subsequent meeting with another person after returning is a "reflection" of the meeting during the workshops (with myself or with other Dwarfs). And how can such a meeting end – only joy.
Now I dance – I, who all my life was afraid to dance. I do it in the car too
I sing – I feel the rhythm that breaks through I don't know where from – changing the vibration into sound.
How to describe what happened?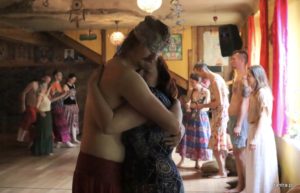 How to describe the fact that my meeting with myself resulted in Delicacy, support of my inner child and a whole SEA of love?
How to describe a meeting with another person when you have the impression that you are touching Their Souls???
How to describe the meeting with Joy – after all, it is around all the time – only I saw it floating around me for the first time??
And how to describe the Love of Others for me when you have a birthday, and how would you be born for the second time?
without pain
with a chest full of air
going to mom and dad
going to life
eagerly awaited in this world
openly accepting what the universe has for me!
And how to describe that the whole Earth with Dwarfs sings for you, shows you how beautiful the world is, tells you the most beautiful stories, gives you the most beautiful gifts and there is Love in the air??
How to describe all this when you are just learning to name feelings and thoughts again???
I am grateful that I can meet and work with Gaya, Mario, Saszka, Aleksandra, Malenstwo, Ania, Magda, Julia, Szymon and others in such a beautiful amazing place as Modra Rzeka.
I am grateful for every Dwarf I meet ❤️ – every Dwarf is Beauty in its purest form to me.
I am grateful to myself that I gave myself the right to find myself.
I am grateful that I reached out for all this Beauty when Modra Rzeka stood in my way.
Gratitude ❤️🧡💛💚💙💜💗
Asia