M. 'Dream Tarot', Nowa Morawa 2023
The 'Dream Tarot' workshop is the magic of lightness of work combined with amazing feelings and work in the body. A fantastic dream that brings you to life and continues. Life is a dream.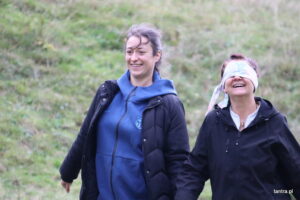 Dreams have always been important to me, they support me and give me suggestions. Sometimes they threatened with prophecy and literalism.
During the workshop, I experienced that we experience dreams. What is pushed aside, unconscious or unwanted comes back to us and patiently asks for attention. I am every element of the dream, every piece of what appears. I am a diver, I am an oxygen tank, I am water… and what do I feel then? How does this relate to my life? Experiencing, dancing, painting and feeling allowed me to discover what I had not seen or felt before. Meeting myself in a dream, and then in life. A beautiful moment of immersion when worlds come together and it's still fantastic. What seemed to make no sense, took shape and had an incredible impact, showing what was important to me, what I was avoiding, where my spontaneity was, and what relationships I was creating.
Being among wonderful, interesting people, honest and valuable conversations, and at the same time laughter and joy made the time in Morawa seem like a daydream. I left with confidence in myself and my dreams.