Playlist with id 34 does not exist!Playlist with id 34 does not exist!
Each year from December 28th to January 1st, in Nowa Morawa, Sudeten Mountains, Poland
DO NOT HESITATE TOO LONG, WE HAVE LIMITED NUMBER OF PLACES!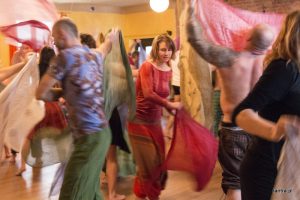 For children we have a separate program in the workshop.
Welcome to the common celebration in the beautiful vibration, in a beautiful location in the heart of the Massif of Snieznik, 750 m above the sea level.
This is a 5 days trip into the depths of our hearts, to open the vital force of life and creativity in the New Year! T be able to serve yourself a New Year filled with sweetness, tenderness, pleasure and delight of all the senses.
5 days of common celebration in the magical atmosphere full of tenderness, humour and fun.
5 days to awaken your 5 senses and connect to the 5 elements of nature, deepen your intimacy and create a great new reality.
To enjoy fully your own presence, the presence of others, the joy of being in a group and the awareness of being part of a larger whole.
It is already the 13th time in Poland, we meet at this unique workshop, where we combine the power of shamanic rituals and the power of tantric energy in order to the New Year's Eve wishes gained magical powers and get fulfilled.
In the rite of passage we discover what we do not need to take with us to the New Year 2017 and so finally we part, we end up with it physically, mentally and emotionally.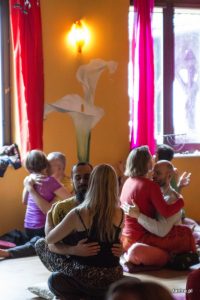 We rediscover our deepest dreams, desires, passions and talents so that we live in conjunction with our heart. We define our desires and goals to achieve in the New Year. We find strength and energy needed to meet the desired objectives.
The workshop is conducted in a unique, tantric atmosphere, in the energy and fun. Thanks to its internal capacity, awareness and power of rituals it can change your life and create what we desire.
According to the Mayan calendar, the present times are the times in which the earth passes complete change in both material and spiritual worlds. On the earth a different standard of living begins, we all enter another level of consciousness and frequency, a new era begins.
It is time to follow the path of spiritual development, the path of love and harmony. What will be the year 2018? Discover the Creator of Life in you.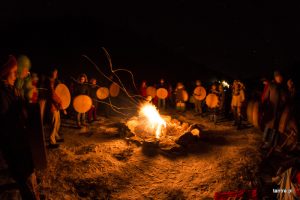 Every man should know that we are transforming our world and how it will look is in our hands. What we create within ourselves will be vibrating outside.
Once upon a time, a young man just after the arrival of the New Year decided to put everything behind him. But after an hour, when the New Year has not yet grasp some air, the man decided to go back to some important matters left in the old year. He ran so fast to the old year, the door was closing, but he got in.
– How lucky I am to be back, – he said, pleased with his decision. But when he saw how many cases he left behind, how many wonderful moments he has to say goodbye to, how many kisses, successes, hopes that came true, but also those still left, he felt sorry and decided to play a little more in the past.
– The door will be closed in a moment. – He heard a voice coming from behind him.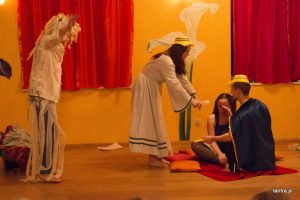 – Just a little bit more, a minute, I'm going soon, please, wait, there is only one more photo, O! And maybe this map, it showed me the way once, look how I am in a hurry…
When the man came to the door, it was already closed, there was not even a crack to squeeze … And he has stayed in his past forever…
Let the old go, shut the door behind you and do not go back. In the new year you will get a new map, new tips and… a new life, just do not be afraid of it.
Good luck and best wishes!!! This will be the happiest year of all you have ever experienced. That is what I am feeling, some trees told me!!! 🙂
/P.C-Szept/
In the attentive, safe and warm atmosphere of the workshop you will experience, among others: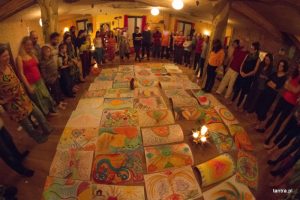 • Relaxation of the body (the release of tensions and stress) to open it up to fully feel yourself and the world around you.
• Awakening of our chakras – "energy centers" – and allowing the energy freely flow through your body.
• How to open your senses and really feel yourself, other people, the world around, nature.
• Evaluation of the passing year.
• Defining and strengthening your New Year´s resolutions, finding strength and energy needed to keep them.
• the Ritual of Passage – you will define what you do not want to carry on into the New Year and you definitely leave behind.

• You will create your own, unique New Year Mandala.
• Great New Year's Eve fun in the company of wonderful people 🙂
• You will experience meditation, dance, movement, mantras, singing and fun!
 We invite couples and singles. 
We invite you to create your own life! We invite you to enjoy yourself and have great fun! 
Date: Each year from December 28th to January1st, Nowa Morawa, Sudeten Mountains, Poland
Teacher: Mario, supported by his wife Gaya and a team of animators.
Information and registration: Aleksandra Jozwiak + 48 720 893 888, aleksandra.j@tantra.pl
Cost: 280 euro /person; 255 Euro /person in a couple + accommodation and board – 30 euro /person/day