Malgorzata Knol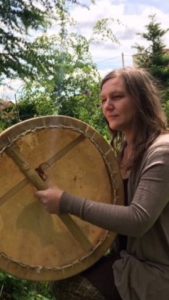 She is an artist, a seeker, and life passionate.
As a child, she painted, as a teenager she played in a theatre. She loves challenges, and the constant search for deeper meaning of existence and the joy of life. In Poland, she led an artistic agency ART-PRO, she conducted auditions for commercials, collaborating with Malgorzata Adamska and videos collaborating with Dorothy Kędzierzawska. She worked as a make-up artist and stylist at photo sessions, and music videos, in Poland and Norway.
She likes combine photography with painting. She graduated from the Warsaw Film School in the department of photography. Her work has been published in the "Photo" and "Creature" magazines, on the blog "Strasznasztuka" of an art critic Izabela Kowalczyk about art and popular culture, in the book "Mother of Polish women, boys and cyborgs, the art and feminism in Poland." Also in the "Circulation" and "Artmix" magazines. She has won several prizes and awards for bringing a new look at art. Exhibitions of her works could be seen in Poland, Norway, Greece, Germany. She has worked with the foundation "The Passion of Life" dedicated to the treatment of addictions.
She has lived in Norway for many years, where she co-created the Days of Polish Culture, Polish Radio and the association of creative people "Creature". She is an art-therapist, she has graduated from a year Expressive Therapies and Relaxation Techniques Academy, where she learnt therapy through art, dance, drawing, voice and sound therapy.
In Poland, she has facilitated a workshop of expression and relaxation for women. She co-creates the ´Spontaneous Creation´workshops in Oslo. She has been working with body work for several years: doing sports and classic massage, Tibetan bowls, koshi bells, tuning forks sound massage, lomi lomi nui, tantric and intuitive massage, postural integration. In her body work she combines different techniques, experience and intuition. She loves movement, dancing, and singing.
She has graduated from Tantra of the Heart school – Formation. She cooperates with Tantra of the Heart today. Thanks to that she has been introduced to body work methods, psychotherapy (Gestalt, Rebirthing, Postural Integration, guided meditation, regeneration movements, experimental Gestalt approach, myths and fairy tales work), various forms of relaxation (dance, massage, spontaneous movement) and meditation (meditation, dynamic meditation, trans). She does shamanic journeys. She participates in Creation Laboratory – Psychodynamics of the Relationship & Body Communication.